Finding the Perfect Swimming Pool for Your Custom Home
Posted by CRG Homes on Monday, May 20, 2019 at 3:14 PM
By CRG Homes / May 20, 2019
Comment
One of the keys to living on the South Carolina Grand Strand is surviving the hot summers. The best way? Dive into a refreshing pool of water!
Incorporating custom outdoor living spaces into the design of a new home has become an increasingly popular trend allowing you to maximize the use of your lot as well as adding to your quality of life and increasing your home value. The design team at CRG Companies has many years of experience designing and constructing unique outdoor spaces along the Grand Strand. It is part of our new home design process to take into account the exterior space of the home for the inclusion of pool design, hardscapes, and landscapes.
A Must-Have For Investment Properties
Pools can make or break the bookings for a vacation rental. Most guests renting beach homes look for pools to provide additional entertainment and opportunity for relaxation. Pools are excellent for cooling off after a long day on the beach or for evening swims to allow the adults time to relax while the kids continue to enjoy the water. CRG continues to build oceanfront rental properties along the Grand Strand, many of which are vacation rentals that will book $150,000-$200,000 a year in rental income. We've designed a collection of home plans that are great for vacation or second homes, which can be modified to fit your needs.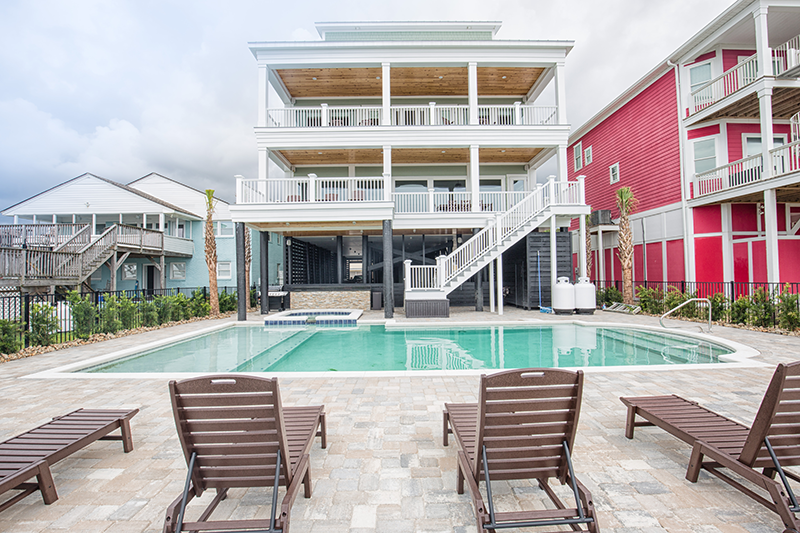 Oceanfront vacation rental home and pool designed/built by CRG Companies in North Myrtle Beach
TOP 4 CUSTOM POOL TRENDS
Here the top trending custom pool must-haves to keep in mind as you begin the design process and outdoor planning for your custom home with CRG Companies.
Built-in Bar
Swim-up bars have continued in popularity since the mid-seventies. In 2019 the feature is more elaborate and luxurious with a sunk-in outdoor kitchen next to the pool with a countertop and built-in bar stools submerged in the pool.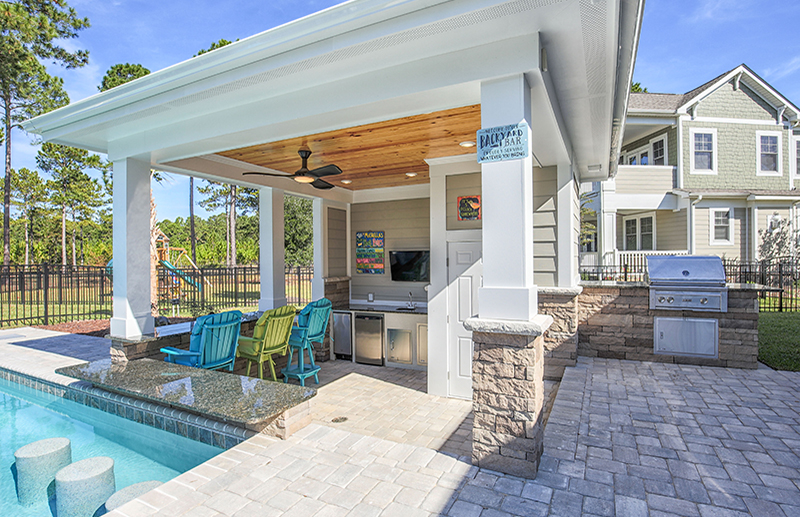 Custom built-in pool bar with an outdoor kitchen designed and built by CRG Companies in Waterbridge
Infinity Pool
The only thing better than an uninterrupted water view is a continuous panorama enjoyed from the cool waters of an infinity pool. Blurring the lines between man-made and nature-born, an infinity pool is one where the water flows over one or more of the edges producing a visually stimulating effect of the water having no boundary, and are often designed to seem as though they flow into a larger body of water.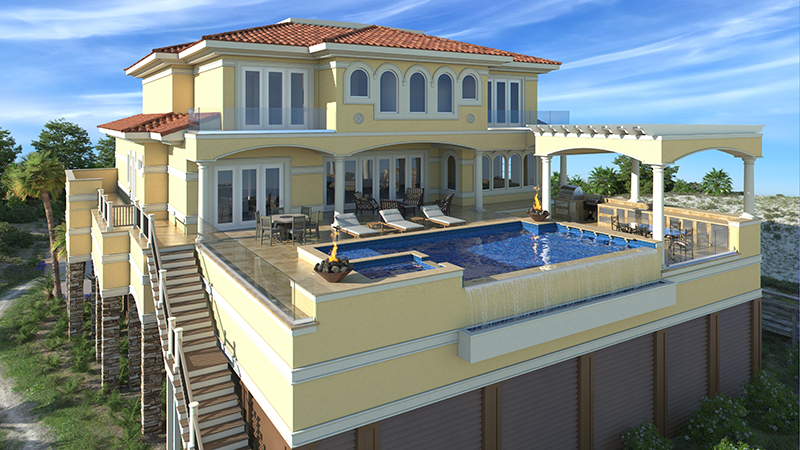 Rendering of CRG Custom Home and Pool With Infinity Edge, Swim-Up Bar and Outdoor Kitchen currently under construction in the Dunes Club
Sun Deck
If there is a trend that continues presently in swimming pool construction has to be the tanning shelf/sun deck/ledge lounger. No matter which name you choose to call it, this custom resort-style feature is great for kids and adults who want to hang in the shallow part of the pool.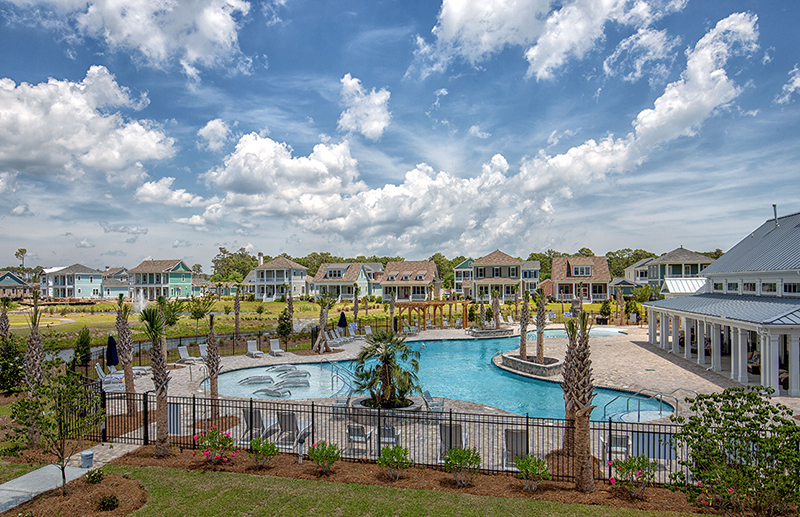 Sun Deck at the Living Dunes Community Pool, a new home community by CRG Companies
As a custom design, sun shelves (wide ledges) can be installed at either end of the pool or even around the entire circumference. Shallow-end or deep, submerged pool decks can even sport features like umbrellas to give welcome shade from the sun.
Smart Pools
Pool automation is making owning a pool fun again! By investing in a pool automation system you'll find yourself saving time, energy and money by incorporating technology features like automation, lighting, and sound.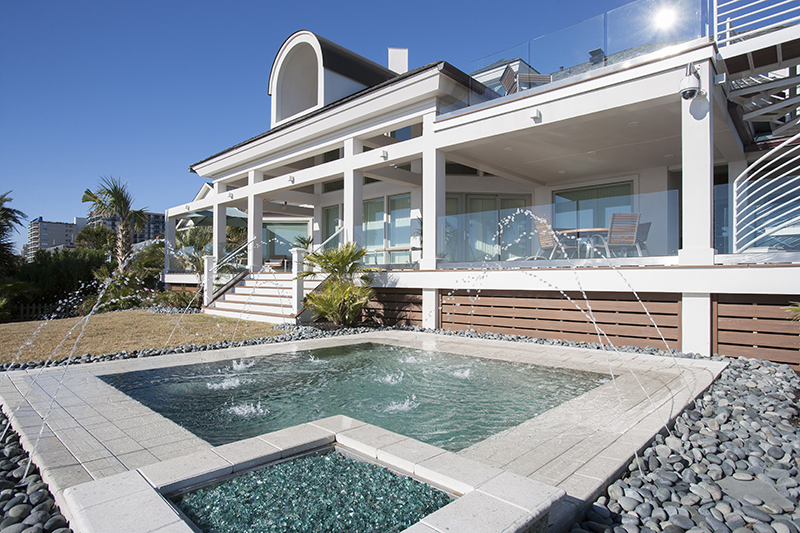 Automated pool and fire element at a CRG oceanfront remodel in North Myrtle Beach
Here are a few ways pool automation technologies can help you manage your new pool with ease from your mobile device.
Adjust water temperature by controlling your pool heater
Turn your pool pump/filter on or off
Manage pool chemical levels
Turn on or adjust LED pool lighting
Apply or remove covers
Maximize your outdoor environment by incorporating technology features like automation, lighting, and sound.
We're Here To Help
If you are considering the addition of a pool to your home, adding one (or all) of these unique pool trends will bring value and style to any project. CRG Companies offers a wide range of real estate services to help you make your dream home a reality. Whether it's buying, selling, or designing and building, our team of home professionals can help you make the next steps in your project. Contact our team today to discuss how we can help turn your dream into reality!