Quick Tips For An Outdoor Space Update
Posted by CRG Homes on Friday, June 26, 2020 at 9:42 AM
By CRG Homes / June 26, 2020
Comment
Summer is here and even though the Fourth of July is just around the corner, it's not too late to get your outdoor space ready for relaxing summer evenings entertaining friends and family by the grill!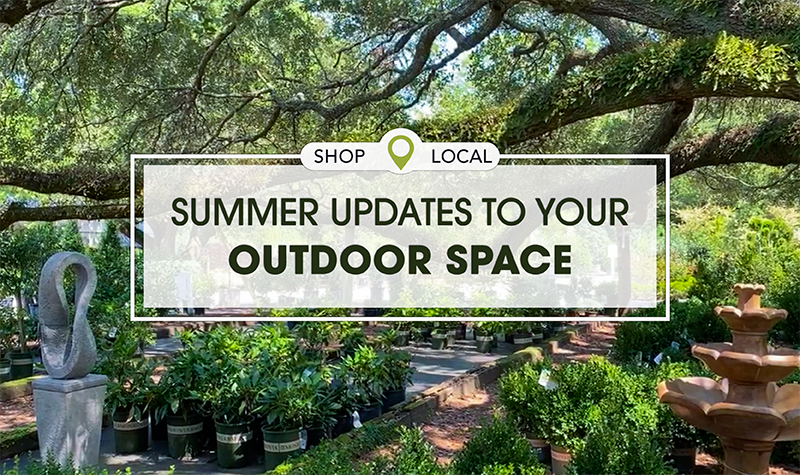 Save Time, Shop Local
Local nurseries are full of professionals who understand the growing conditions of our area. With no time to waste, you'll find these shops to be a valuable resource in understanding the plants and landscape materials that will thrive if planted now. Their expertise and vast selection of mature plants will make your backyard update effortless.
We stopped by Tides Magazine Partner in Pawleys Island, True Blue Nursery, to check out accents for your outdoor space including decor, seating, plants, shrubbery and trees available today that can assist you in updating your space for the summer.
Easy Summer Updates To Your Outdoor Space
Create Natural Barriers - Using mature evergreens and trees that have beautiful foliage can help define your space and help to create additional privacy in lue of a fence.
Install A Fire Pit - Even in the heat of summer the glow of an evening fire can create an entertaining space and even serve as a fun outdoor kitchen for the master griller.
Create Functional & Sustainable Landscape - Add to your garden design by incorporating gorgeous herbs & edible plants.
Personalize Your Space - Outdoor accessories such as statues, fountains, benches and lighting are easy to add decor that creates a balanced atmosphere with a touch of your personal style.
Refresh Decking & Furniture - Breathe life into old pieces with a fresh coat of paint or stain on the deck then add accent pillows to tie in your new accessories and colors.
Create A Nature Attraction - Draw pollinators to your garden by adding bird feeders and plants known to attract butterflies and hummingbirds.
Buy Established Plants & Trees - When there's no time for growing, shop a local nursery for established trees, shrubs and plants as well as tips on landscaping design and seasonal plantings.

Regardless of the season, it's never too late to create the perfect outdoor space with the help of local professionals.
Here To Help
Our fully-integrated team is here to help you find, design, build or buy your perfect home. Whether you are looking to buy and sell or design and build, our team of home experts can help you every step of the way.